2M Solitaires Collection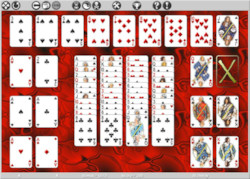 2M Solitaires Collection provides a superb set of 430 solitaire card games like Klondike, Freecell, Spider, Yukon, Gaps, Pyramid, Golf, Poker Solitaire, Bakers Dozen, Alternations, Fans, Canfield, Busy Aces, Osmosis, as well as many original variations found nowhere else. Also, most games feature optional rules for a grand total of more than 650+ solitaire variants.
Play the 2M Solitaires Collection in full color with high-quality graphics and sound. Choose between many beautiful custom cards and piles supplied in different sizes to better fit screen resolutions from 640x480 up to 1024x768 and higher. The playing area can also be customized in many ways : plain color, gradient colors, full image, and mozaic textured images. You can even import your favorite photos if you'd like to!
2M Solitaires Collection includes a detailed scoring system – the faster you complete a game, the greater your score (you get bonuses against the clock - no limit)! It also features a performance analyzer called "The Wise Man", which help you during play to determine if the current solitaire can be successfully completed or not. The program also provides comprehensive online help with detailed documentation will teach you every aspect of 2M Solitaires Collection. Rules are fully explained for all solitaires.
By 2M Games
Operating System: Windows

2M Solitaires Collection Screenshots