Play Solitaire Blitz on Facebook
Solitaire Blitz is a new social solitaire game on the Facebook social networking site. Here is a quick look at the popular new game.
The game's publisher, PopCap, describes it like so:
What do a friendly mermaid, a seven-armed octopus, and a seahorse named Gene have in common? Besides being impossibly adorable, they all appear in PopCap's latest Facebook game, Solitaire Blitz.

In Solitaire Blitz, players compete with friends to discover a whole new world of solitaire in a fast-paced treasure hunt. By matching cards quickly using an up-and-down sequence, they race to clear the decks in 60 seconds and collect treasures to earn silver, the in-game currency redeemable for boosts (power-ups). Immersive environments inspired by early 20th century art and literature are accompanied by a stunning orchestral score, creating a unique gaming environment unlike anything else on Facebook.

"We've taken the world's most well-known card game and created an exciting new social version using PopCap's incredibly popular time-based Blitz mechanic made famous by Bejeweled Blitz and Zuma Blitz," said Scott Willoughby, marketing manager for PopCap Games. "We've evolved a traditionally solitary pastime into a friendly, shared experience that's fun for all ages."
Here's a screen shot of the game: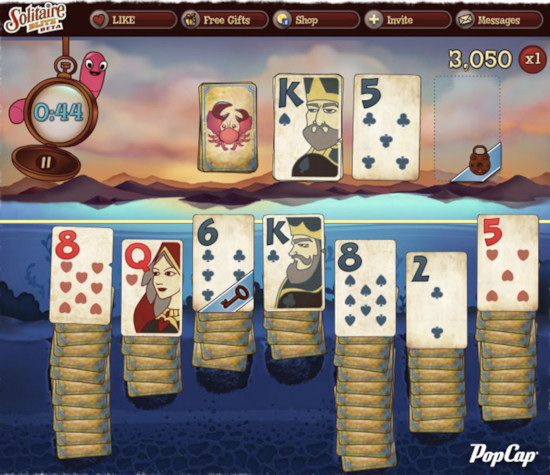 Here's the trailer video from PopCap:
Solitaire Blitz appears to be an ocean-themed version of Golf Solitaire, in which the object is to clear the tableau by removing cards that rank one higher or lower than the top card of the foundation.
Solitaire Blitz provides a number of innovations, such as power-up, locked tableau piles, time limits, and bonuses based on time and achievements. And, of course, the ability to compete against your Facebook friends makes the game fun and compelling.
Still, I wouldn't characterize Golf Solitaire as "the world's most well-known card game"...
Play Solitaire Blitz on Facebook
Follow Solitaire Central on Facebook