Play Solitaire, Fight Breast Cancer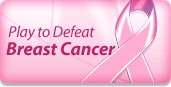 October is National Breast Cancer Awareness Month, and the online skill gaming site WorldWinner is donating 10% of all Solitaire Rush cash entry fees during the first full week of October to the Breast Cancer Research Foundation.
The purpose of National Breast Cancer Awareness Month is to increasing awareness of breast cancer issues, share information, provide access to screening services, and provide a year-round resource for patients, survivors, caregivers and the general public to learn about this all-too-common disease.
The mission of the Breast Cancer Research Foundation is to achieve prevention and a cure for breast cancer in our lifetime by providing critical funding for innovative clinical and genetic research at leading medical centers worldwide, and increasing public awareness about good breast health.
Solitaire Rush is WorldWinner's most popular online card game, with thousands of players competing for cash prizes in this head-to-head version of Klondike Solitaire.
This week, Solitaire Rush players can enjoy a top-notch solitaire experience, while at the same time helping those in need. Together we can all win!