50 cents Tournaments in Solitaire Rush!
The first 2009 WorldWide Web Games (W3Games) tournament in Solitaire Rush kicks off on March 2. To help you prepare, WorldWinner is hosting special Solitaire Rush tournaments for just 50¢!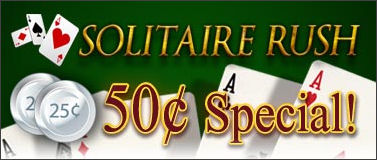 Get warmed up on these fun matches and then try your hand at entering the W3Games, where you can play your favorite online games for a chance to win a share of $100,000 and the title of "World Champion!"
Solitaire Rush is just like the Klondike solitaire you've been playing on your computer for years, except now it's enhanced by the thrill of competition! Available in two popular variations, 1-Card Draw and 3-Card Draw.
The goal of Solitaire Rush is to "play out" by moving all 52 cards to the foundation. Any Solitaire Rush shuffles that cannot be played out are discarded before the game begins, so you will only get shuffles that can be completed. But that doesn't guarantee that you won't make a wrong move and get stuck!
You can play Solitaire Rush for free, or for cash prizes against live players from all over the world in one-one-one games or in one of the many ongoing tournaments.
50¢ Solitaire Rush tournaments are available through March 8.